HubSpot, an inbound marketing leader and partner of InVerve, produces a State of Inbound report each year. The report outlines the priorities, activities, and challenges of the world's inbound marketers. This year's report didn't disappoint.
With over 6,000 respondents, see what today's senior executives, managers, and other inbound aficionados think about the inbound marketing journey. With statistics to back it all up, it's time to unpack the data in this year's State of Inbound Marketing report.
FYI…You can download the entire report here. Heck, you can even compare it to last year's State of Inbound report.
Priorities for Today's Inbound Marketing Strategy
Most modern-age marketers will say that increasing web traffic and lead conversion rates top their priority list. Well, the results are in, and the State of Inbound report agrees! Here's what respondents ranked highest when asked:
What are your company's top marketing priorities over the next 12 months?
70% - Convert contacts/leads into customers
55% - Growing website traffic
45% - Increase revenue from existing customers
Thinking specifically about inbound marketing projects, what are your company's top priorities?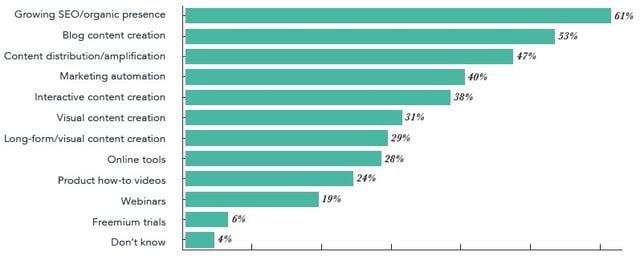 Inbound marketer's priorities are growing SEO, content creation, and effective content distribution. But the gap is diminishing. Visual, interactive, and video content are all seeing big surges in priority. We can thank Google for weighing these content types heavier in their algorithms. Not to mention, visual content performs 94% better than text content.
Sales and its Challenges
As marketers try new channels and test new theories, salespeople must play along. Buyers are evolving, too. They're becoming savvier, wearier, and more elusive. Thirty-eight percent of salespeople say one of their biggest obstacles is simply getting a response from prospects. It's also interesting to find that almost 20% of respondents find it hard to fit social media into their sales process (thanks to those pesky marketers). Here's the full chart explaining what sales people find more difficult today than they did a few years ago.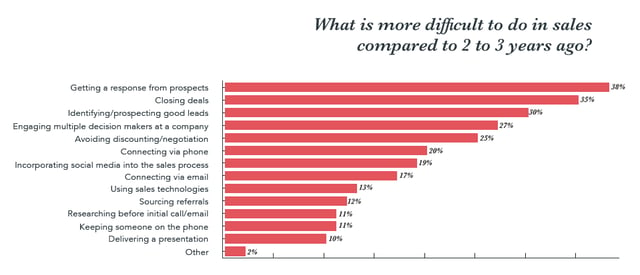 What About Marketing and Sales Alignment?
To push your company forward, an alignment between sales and marketing matters. When your marketing side receives a 'request a quote' or 'set up a meeting' form, your sales should to be following up.
It seems that marketers and sales people have better aligned their efforts, but there's still work to do. Here's a snapshot.
How would you characterize your company's Sales and Marketing relationship?
22% - Tightly aligned
44% - Generally aligned
14% - Rarely aligned
It's also interesting to note that the senior executives believe their alignment is much tighter than individuals below them: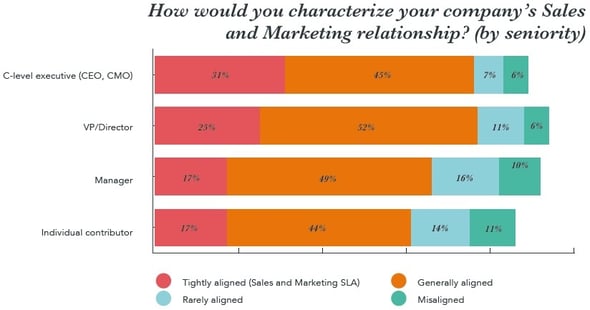 Understanding the Modern Buyer
Consumer behaviors are changing, and that means marketing teams need to adapt. Empathizing with modern consumers was one section of this year's report that stood out from last. Companies are trying to shift their messages and channels to where consumers now are. Here's a breakdown of how people rank the way they prefer to communicate today:
How do you prefer to be communicated with for business purposes?
86% - Email
60% - Face-to-face
56% - Phone
39% - Social media
The sources the modern buyer trusts, for the most part, have remained the same the past three years. But, it is interesting to note "trust in analyst reports" has dropped substantially and "word-of-mouth" is decreasing. Buyers also continue to get wearier, as trust has dropped in almost every category.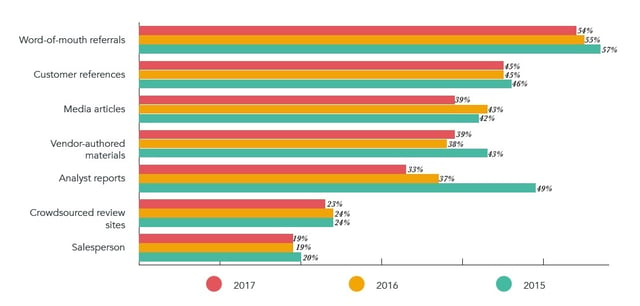 A Gaze Inside the Disruptive Marketing Crystal Ball
Disruptive marketing is developing new strategies that go against the norm to attract new customers. That said, what are the main disruptors that are influencing marketers today?
1. The Constant Disruptor: Social Media
Ah, the necessary evil (for some). There's no doubt social media is tough to keep on a leash. Networks are always evolving and new analytics are pumped out daily. Wrapping your mind around the best plan-of-action can be tricky. Social media will continue to change, and thus, continue to disrupt. Buckle in, folks. It's going to be a bumpy ride.
2. The Main Disruptor: Video
Next on our list of exciting disruptors that can cause occasional pain, is video. The top disruptor in this year's State of Inbound report, video's moving forward with blazing-fast speed. Its role in inbound marketing becomes bigger each day. Others though, aren't betting on video as the future of inbound.
3. The Potential Disruptor: VR, AR, and AI
Your childhood self would be drooling over these technologies. Virtual reality (VR), augmented reality (AR), and artificial intelligence (AI) make what cinemas in the '70s and '80s made the future out to be. Sure, we don't have flying cars yet – oh wait, we do.
The fact is these technologies are available, and marketers are starting to tinker with them. Is there a future for them? Perhaps. Perhaps not. There are companies that are tinkering with them now. The history is not yet written.
Preparing Content Distribution for Disrupting Change
What channels are marketers targeting these days? Snapchat seems to continue its ominous ways (and may fall off even harder following the news of their horrid first market report). Not surprisingly, Instagram and Facebook Video saw the largest jumps from the 2016 report, as YouTube remains the most important channel.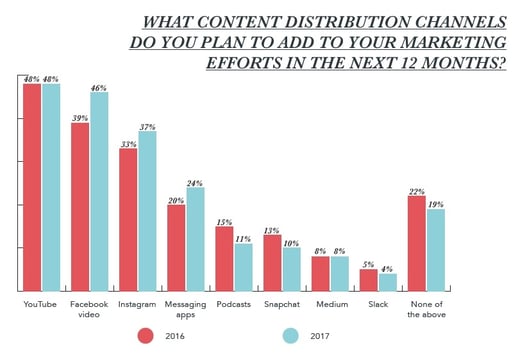 If your competitors put you in a state of envy, it's probably because they've gone the inbound way. When done right, it attracts visitors to your website and social media channels; and will turn those visitors into leads, and those leads into promoting customers. Sounds pretty good, right? You can get ready for inbound marketing today.
Topics: inbound marketing, marketing, state of inbound, marketing strategy