Michigan is the birthplace to an impressive collection of brands and products, some of which are known world-wide and others that are exclusive to the state. The Great Lakes State has introduced the world to everything from routine breakfast staples, state-of-the-art appliances, delectable junk food, and – obviously – automobiles. There is a good chance you bought a Michigan-made product from your last trip to the grocery store, or even drove a Michigan-made product on your last family vacation.
Here ARE THE ten MOST iconic Michigan-made brands:
#1 - Kellogg's
#2 - Ford Motor Co.
#3 - Gerber Baby Food
#4 - Whirlpool
#5 - Carhartt
#7 - Meijer Inc.


#8 - Herman Miller, Inc.
#9 - Better Made Snack Foods
#10 - Vernor's
1. Kellogg's
The Kellogg's brand represents some of America's most beloved breakfast treats such as Kellogg's Corn Flakes®, Fruit Loops™, Pop-Tarts®, and Kellogg's Eggo® Waffles. It has dominated television with their memorable commercials for more than fifty years. Their products are sold in supermarkets all over the world, but Battle Creek, Michigan – also known as "Cereal City" – has been home to the Kellogg's Company since 1906.
(Source: kelloggs.com)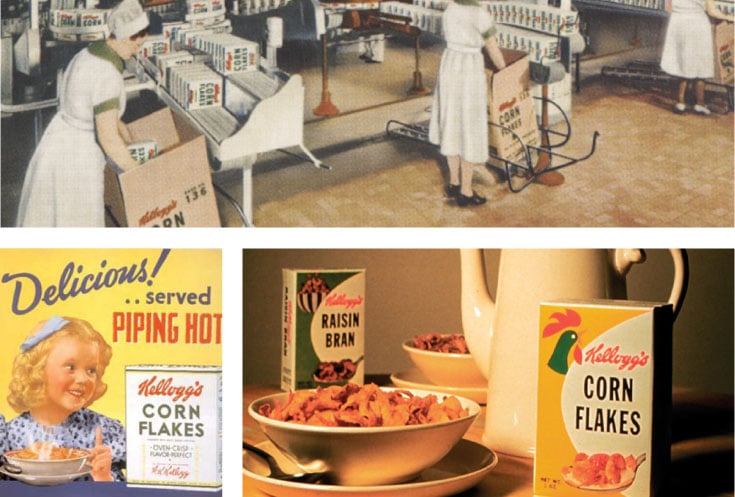 2. Ford Motor Co.
While General Motors and Chrysler are very well-known automotive brands, Ford Motor Co. is the most "iconic" of the "Big Three" because it is the brand that started it all. The company was founded in 1903 by Henry Ford, who made a name for himself – and the brand – with his introduction of the Model T automobile and use of the mass production assembly line. Today, Ford Motor Co. is one of the world's most powerful brands and continues to sell millions of cars across a global market.
(Source: corporate.ford.com)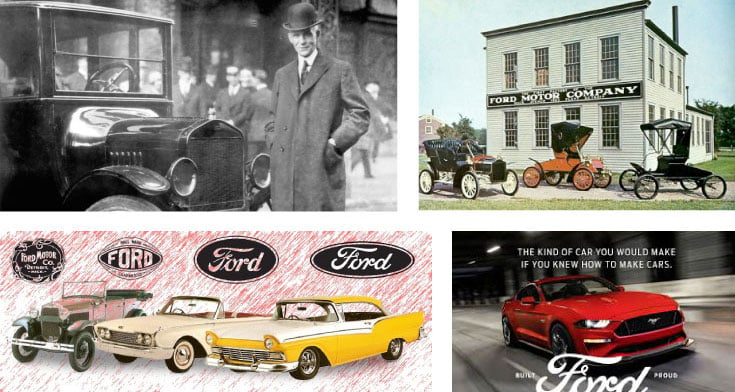 3. GERBER®

BABY FOOD
It is likely that no face on Earth is as instantly recognized as the Gerber® baby, and the name itself is synonymous with baby food. Born as the Gerber Products Company in 1928, the Fremont, Michigan-based company was created by Dorothy Gerber who wanted a better, faster way to make her daughter's baby food. The family business was canning, and husband Dan Gerber soon found that making baby food was easily done in the canning plant. Before long, Gerber's products were on store shelves nationwide — and Gerber has remained an international leader in developing exceptional baby food products.

4. Whirlpool®
The Whirlpool Corporation was founded in St. Joseph, Michigan in 1911 by Louis and Emory Upton. More than a hundred years later, the brand manufactures some of the most innovative home appliances across a global market. Despite being a household name across several continents, the company's headquarters is still located along Michigan's scenic west coast.
(Source: whirlpoolcorp.com)

5. CARHARTT
From rail to farm to construction, the Carhartt® brand represents the best in durable, comfortable, high-quality workwear. Founded in 1889 as Hamilton Carhartt & Company, Hamilton "Ham" Carhartt grew the company — from two sewing machines in a tiny Detroit loft, to one of the nation's go-to brands. Barely weathering the Great Depression, Carhartt® survived to supply military uniforms for the U.S. Army, jungle suits for Marines in the Pacific theater, and workwear for all the women at home who took over the work in factories and on farms. Today, Carhartt® is a strong international anywhere quality work clothing is.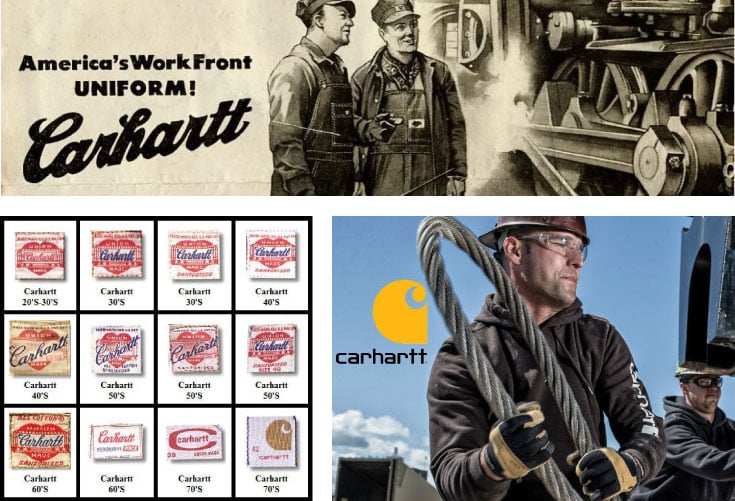 6. Faygo Beverages, Inc.
Is there anything more Michigan than Faygo Pop? If you are a Michigan native, chances are you have tried one of the Faygo brand's more than fifty flavors of soda including Rock & Rye, Moon Mist, or Vanilla Crème Soda. The brand was developed in Detroit in 1907, and is still considered a cult-favorite amongst Michigan "pop" drinkers more than a hundred years later.
(Source: faygo.com)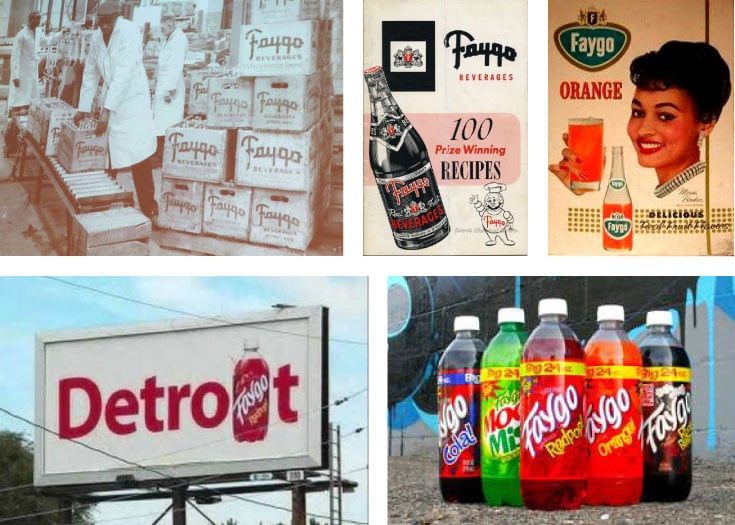 7. Meijer, Inc.
The Grand Rapids-based Meijer was first founded by Hendrik Meijer when he opened the first Meijer's Grocery in 1934. Hendrik and his son, Fred later revolutionized the super-market concept in 1960 when they decided to open a store that would combine grocery shopping and department store shopping - a one stop shop. It is considered to be the first supercenter store nationwide. The Meijer brand is made of over 240 stores (half of which are located in Michigan) that stretch across six states including Michigan, Ohio, Illinois, Kentucky, Indiana and Wisconsin.
(Source: Meijer.com)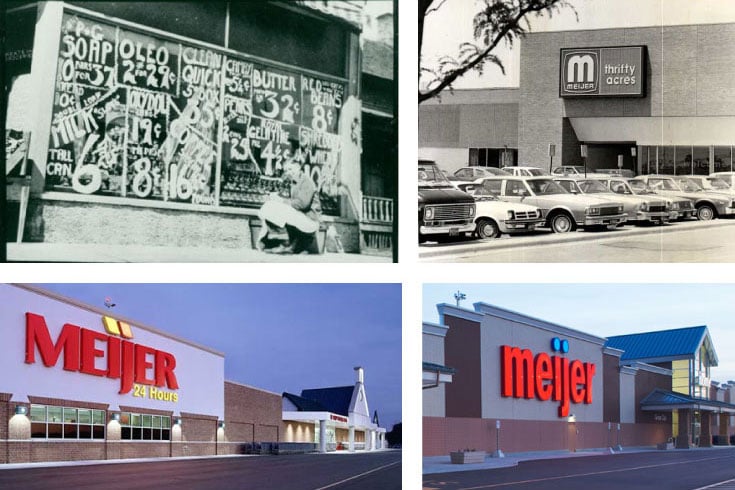 8. HERMAN MILLER, INC.
When it comes to furniture, Herman Miller is so iconic that few in the industry today can even come close. Beginning in Zealand, Michigan in 1905 as the Michigan Star Furniture Company, Herman Miller became renowned not only for modern comfort and durability, but for innovative designs that rendered many pieces works of art, and icons in their own right. With designers like George Nelson, Charles and Ray Eames, and Isamu Noguchi, Herman Miller has created an international furniture brand that for more than a century has never ceased to inspire. Stronger than ever today, the company has manufacturing facilities worldwide and offers several brands specializing in different markets, but maintains its headquarters in Zeeland, where it's roots are deep.

9. Better Made Snack foods
No Fourth of July picnic, family barbecue, or everyday lunch for that matter, is complete without a bag of Better Made Potato Chips. The legendary Detroit brand was developed in 1934, and has since added popcorn, pretzels, and tortilla chips to their flavor portfolio. It's no wonder Detroit is #1 in the world for potato chip consumption! While the Better Made Brand is exclusive to Michigan, Toledo, Ohio, and central Chicago, their products are available online for anyone to purchase.

(Source: bettermadesnackfoods.com)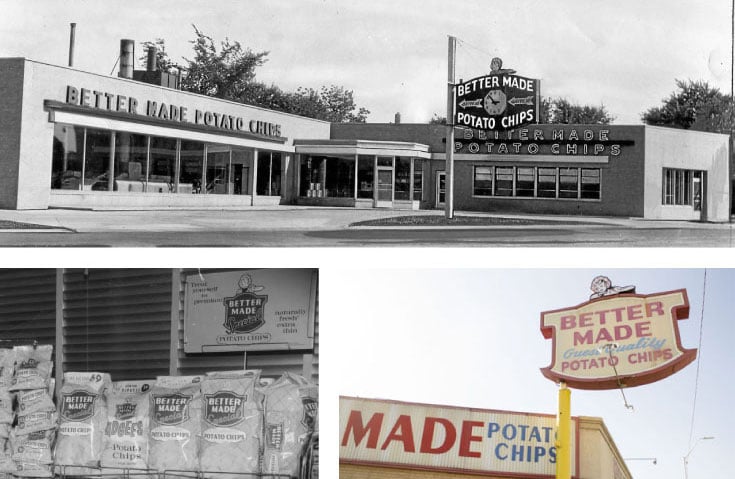 10. Vernor's Ginger Ale
Along with Better Made, Sanders, and Faygo, Vernor's Ginger Ale is one of Detroit's most unique and beloved brands. The brand is named after James Vernon, a Detroit pharmacist who concocted the beverage in the early 1860's. It is the oldest surviving ginger-ale brand in the United States. Today, Vernor's is part of the Texas-based Dr. Pepper Snapple Group, but it will always be a Michigan soda at heart.
(Source: drpeppersnapplegroup.com/brands/vernors)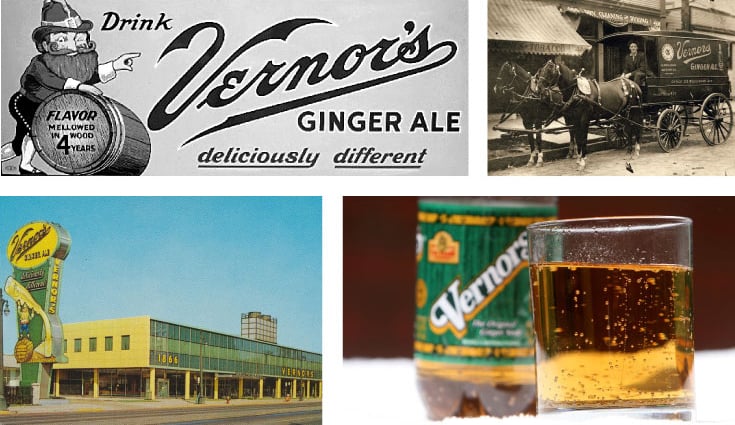 THe runner's up
It's amazing how many memorable brands have gotten their start in Michigan. Even though these brands didn't make the top ten list, they're still worth mentioning. Coming in as runner's up for the most iconic Michigan-made brands, these companies have come up from meager beginnings to establish themselves as household names, some just in the last 25 years.
General Motors
Domino's Pizza
Vlasic Pickles
Sanders
Little Ceasar's
Bell's Brewery, Inc.
Biggby Coffee
Two Men and a Truck
Hungry Howie's
Founder's Brewing
What makes them iconic? Growth and recognition. Even if you're not from Michigan you can probably visualize the logos for these companies. It doesn't matter which state you're in, you'll be able to get a beer from Founder's (they now sell to all 50 states!). If someone suggests Little Ceaser's pizza you might automatically reply, "PIzza! Pizza!" And for many, summer doesn't start until they can get a Bell's Oberon.
They didn't make the top ten because their history in Michigan may not be as far-reaching or impactful as Ford or Kellogg's but they certainly have earned a spot among Michigan's brands that are household names.
There are still many more brands that Michigan has to offer the world. The best thing about them? No matter where life takes you, there is a good chance a little part of Michigan will be right there with you.
MICHIGAN BRANDS OF THE FUTURE
We love celebrating Michigan brands (especially when we're drinking an Oberon!), but we really shine when we're building Michigan brands. If you're working on dreaming up and building a brand that truly resonates with your market, we should talk.
Want to browse a few more fun brands? Check out some of the most well-known logos and how they've evolved over time...