Driving Success in Transit Marketing
Our expertise spans across various marketing channels, from TV and radio advertising to print materials, digital resources, and social media campaigns. We've successfully helped transit companies convey their message, promote convenience, and enhance urban mobility through our creative and effective strategies. Explore our transit-focused projects and see how we've made a meaningful impact in the transportation industry.
Social Advertising
Driving Engagement
Our collection of transit company social ads highlights our dynamic campaigns created for Indian Trails, D2A2, and CATA. These ads harness the power of social media to engage audiences and bolster recruitment efforts for bus drivers. We leverage the potential of social media to accelerate recruitment and forge connections that advance communities.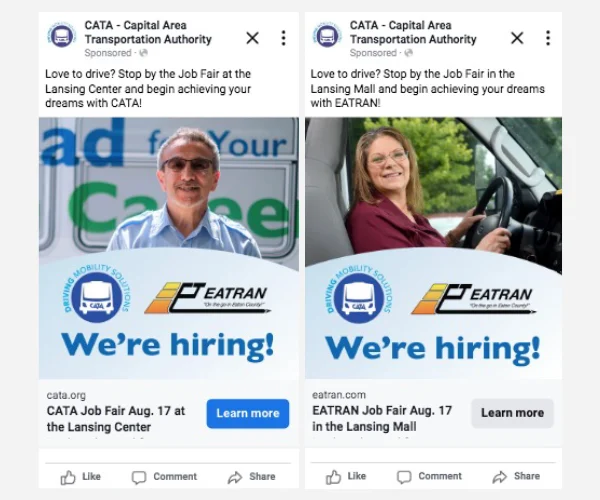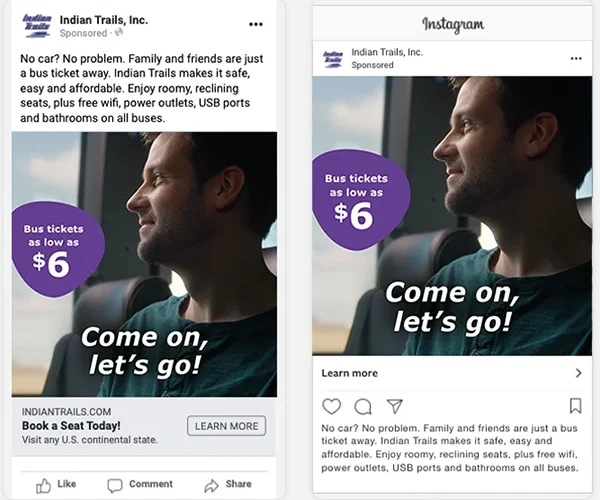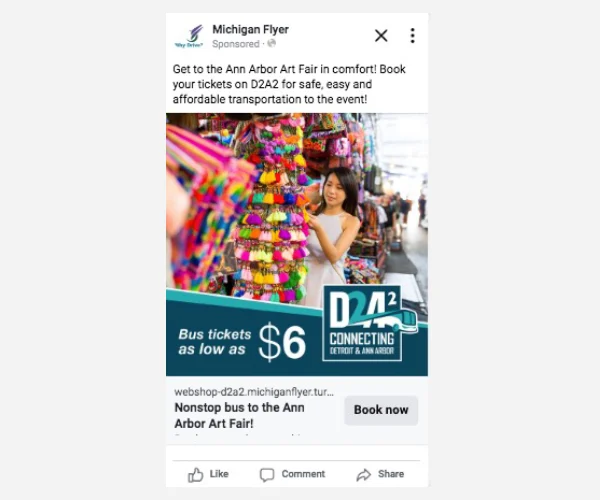 Search PPC Advertising
Navigating Success in Transit Marketing
We specialize in crafting strategic online advertising initiatives tailored for transit companies. Through these campaigns, we ensure that your message reaches the right audience precisely when they're searching for transportation services.
Our team excels at creating compelling ad copy, conducting keyword research, and optimizing campaigns to maximize your ROI. Whether it's promoting transit routes, special promotions, or recruitment efforts, our search ads and PPC Advertising solutions are designed to drive measurable results.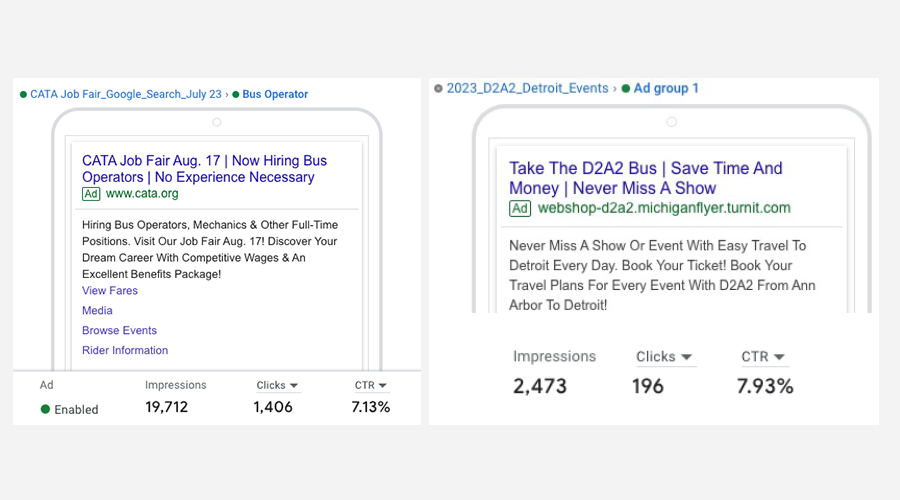 Examples of Dynamic Pay-per-click Search Ads
Digital Display
Michigan Flyer's Commuter Campaign
Our digital display ads spotlight Michigan Flyer's "Brighton to Detroit Metro Airport" campaign. Featuring two captivating GIFs and one informative static display, these ads deliver a direct message to modern commuters.
In our display ads, we utilize GIFs to break down detailed messages into bite-sized panels. This approach makes it simpler for commuters to absorb and retain the information while scrolling through the ad.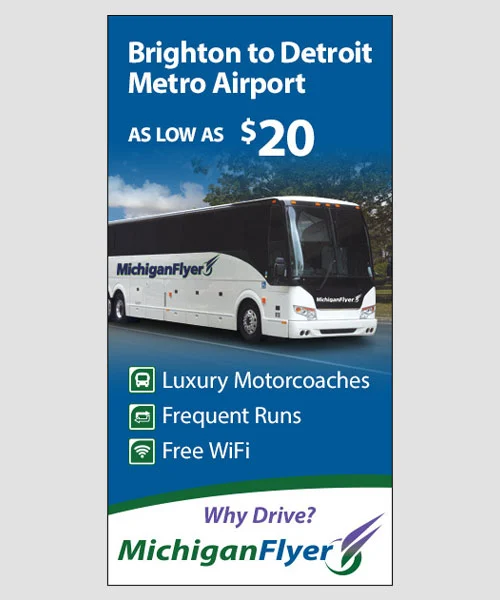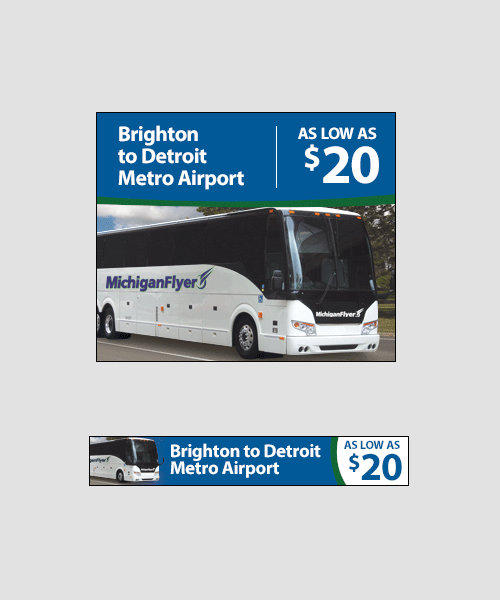 Michigan Flyer Display Ads
TV Advertising
Broadcast Your Message On Air
Creating compelling TV commercials and helping you negotiate the best ad schedule is InVerve's sweet spot. We understand the power of the airwaves and work with you to create video content that brings your message home.
Come On, Let's Go Video Campaign
Radio Advertising
Amplify Transit Messages
Radio spots offer a unique opportunity to amplify your message, connecting with a diverse audience of commuters and travelers. With the power of sound and storytelling, radio ads engage listeners emotionally, making your transit services memorable and encouraging ridership. Explore our featured radio ads and discover how we leverage this medium to create lasting impressions that drive local connections and enhance brand recognition.
CATA Recruitment Radio Spot
Imagine the Avenue Radio Spot
Billboards
Campaigns on the Road
These larger-than-life displays leave a lasting impression on travelers and commuters, serving as a constant reminder of the convenience and reliability of these transit services. Witness how our billboards effectively communicate the essence of these transportation options, bridging the gap between cities and making travel more accessible than ever.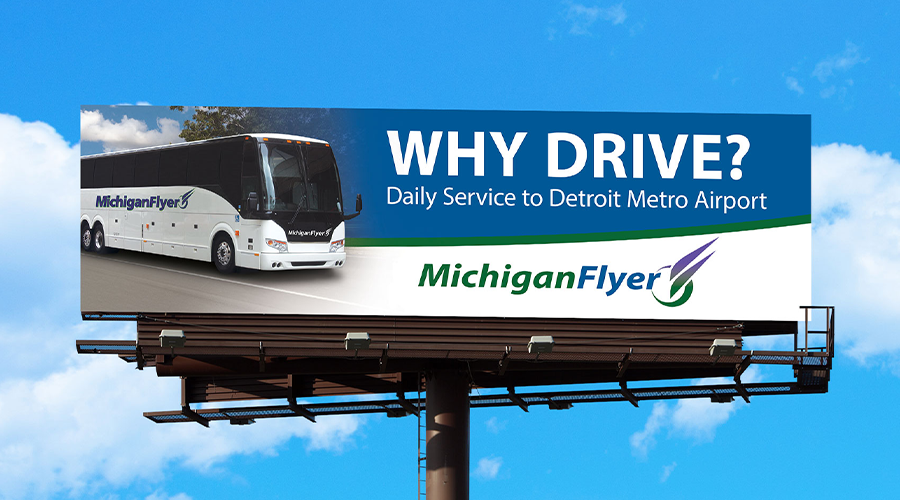 Print Ads
Make Headlines!
Jump off the page with print ads that both inform and show readers how to take action. From recruitment to ticket sales, we've helped transit agencies get the word out with a splash in newspapers, magazines and other relevant publications.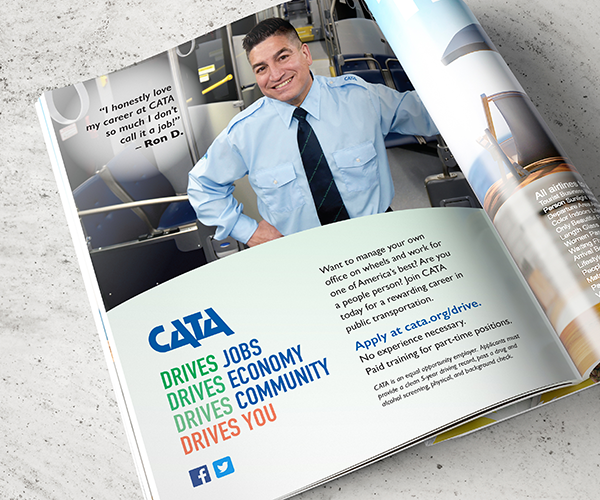 CATA Recruitment Printed Ad