Just 25 years ago, you could grow a business with positive word-of-mouth, great customer service, and referrals from loyal customers. The jury was still out on the internet, your customers didn't shop online (remember when Jeff Bezos was mocked for trying to sell books online?), and social media didn't even exist yet.
It's a different world now; like it or not, digital has taken over. Cultivating a solid online presence and engaging strongly with current and prospective customers is key to building and maintaining a successful business in the digital world.
Online shopping and sites like Amazon are putting brick and mortar stores out of business because 79% (and growing!) of Americans shop online, with about 25% of Americans shopping online at least once/month. Even if they don't use your website to make purchases, your prospective customers are definitely doing a quick search to find and learn more about you before they buy from you in person.
If your potential customers can't find you online, you don't exist - and they'll likely move on to one of your competitors.
how do you get tO THE DIGITAL MARKETING SWEET SPOT?
What if you're not "techie"? What if you've never set up a social media account and you prefer reading paper books to ebooks? You can keep your flip phone and continue building your library of paperbacks, as long as you dedicate some focused time and energy to the key digital tactics you need to market effectively.
Here are five tips for next level digital marketing success:
1. A realistic digital strategy budget


2. An effective website
3. On-brand social media and consistent reputation management.
4. A deep understanding of your ideal customer.
5. The ability to recognize when to bring in extra help.
1) A REALISTIC DIGITAL STRATEGY BUDGET
First things first: you need SMART Goals and a designated budget to focus your efforts.
Consider your business goals, what you hope to get out of a digital strategy, how much you're willing to (or simply need to) invest, and how you'll measure success.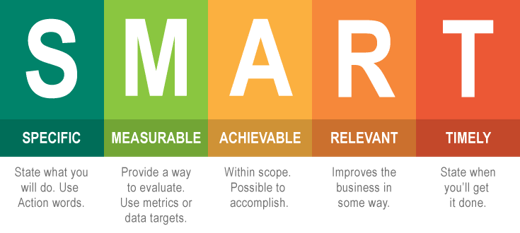 SMART goals lead to better long-term success, so make sure your goals are:
S

pecific.

Measurable.

Attainable.

Relevant.

Time-bound.
Once you finalize your goals, plan your budget in a way that realistically allows you to utilize enough digital strategies to achieve them (and if you're completely unsure, consult with a digital marketing expert to avoid wasting time and money). Some of the most commonly used, effective paths to success include:
A new website (or making improvements to an existing site).

Building out a strong content strategy.

Paid social media campaigns.

Targeted display and social ads.

Search engine optimization (SEO).

Paid search.




2) AN EFFECTIVE WEBSITE
Your website is your most valuable digital asset, so it's crucial to ensure it looks good, functions efficiently, and appeals to your target audience. If you don't have a website, get one (right now!) and if you do have a website, consider when it was last updated. If it's been more than 2-3 years, it probably needs a refresh (any longer than that and you may want to do a complete overhaul).
If you don't have an in-house web developer, consult with a professional; trying to build something through a free or cheap site-building service leaves far too much room for user error or simple mistakes you might not even notice. You don't want to risk losing potential customers because your site doesn't function the way it should.
If you do have a developer on your team, discuss with them the option of building your website with a CMS (Content Management System) so it's easier to create, manage, modify, and publish content going forward. A good CMS should ultimately save you time and make your job much easier.
Don't know what a CMS is? Here are some you may have heard of:
Wordpress.

Drupal

Joomla.

Wix.

Shopify.

HubSpot CMS Hub.
A CMS provides the framework on which your site is built, and includes features like:
Publishing tools.

Pre-made page templates.

Content editor.

Built-in SEO tools.

Integrations options for third-party modules and plugins.

Detailed analytics.

Security & support.
Your website is your home on the internet; it gives customers a place to visit that looks and represents your brand and your business. A CMS helps you build & manage your online brand with a far stronger foundation than you would have if you attempt to go it alone.
3) On-Brand SOCIAL MEDIA AND Consistent REPUTATION management
While it shouldn't be your only digital tool, you need a well-managed social media presence. Even if you don't post often, people are talking about your business and it's crucial to monitor reviews, comments, posts, and any online mentions of your business. Reach out to customers who leave reviews. Thank them if they leave a favorable comment, and ask how you can make things better if they complain about a bad experience. Customers want to be heard; being responsive is the best way to keep the peace and maintain a good online reputation.
To find out where your customers spend their time, do a little persona research. If your target customer is over 40, they're probably spending more time on Facebook. If you're B2B, you might choose to focus on LinkedIn. Whichever you decide, consider using a platform that easily allows you to save time by building, storing, and sharing content across multiple sites. (We like HubSpots's social scheduling, but there are others you could try!)
Most importantly, remember that - probably more than on any other platform - your voice, tone, and authenticity are crucial to connecting with your audience. Too many businesses ignore this, but it's a huge factor in whether people find you relatable (or not).
No matter where you start, social media offers a great place to raise brand awareness and trust, increase traffic to your website, engage your audience, and promote your products and services.
4) A Deep UNDERSTANDING OF YOUR IDEAL CUSTOMER

Digital works best when you are genuinely trying to meet the needs of your target customers. If your content fails to resonate with your potential customers, they'll simply ignore you.
If you create social content and a website that solves their problem or answers their question, you'll build the trust needed to convert them from a contact to a lead, and a lead to a customer. However, don't just create your content for prospects; remember to authentically engage with prospects and customers throughout multiple touch-points.
Always consider how to improve the customer experience by asking these core questions:
What value do we provide to customers?

What problems do we solve for our customers?

What are our customers' biggest challenges?

What are the most common questions we're asked?
The digital world gives us access to more analytical tools than ever before, and a digital expert can help you gather and interpret your performance metrics to ensure your message is reaching the right people.
5) RECOGNIZING THE NEED FOR HELP
It's okay to seek help when implementing new strategies. Knowing when to ask for help is a strong tool in itself, because you'll most likely save money in the long run. A digital marketing agency can help you better allocate your budget and implement your tactics effectively.
With so many options at play, digital marketers (should) take ongoing training to stay at the forefront of their field – in multiple categories. That's time a marketing director doesn't often have, so it's easy to fall behind on the latest and greatest updates and best practices.
In short, digital marketing consultants have the experience and training to get more done in less time, with less money. Some of the ways they can carry the load might include:
Building a persona.

Creating lead-generating content.

Optimizing conversions.

Analyzing in-depth reporting.

Providing metrics that track your progress toward your goals.
Not sure where to begin? InVerve Marketing will do a free 30-minute work session with you to define your goals and assess whether our services would be a good fit.
LET US DO THE HEAVY LIFTING:
You don't have to learn to code or be a social media whiz to thrive in the digital world. You just have to utilize the right tools, have specific goals, and get organized. If you're ready to get started and want a digital expert to help guide you, give us a call.
Topics: digital marketing, Web