No, this isn't a blog post about kitchen gadgets, but it might sound like it. Funnels. Flywheels. A veritable kitchen sink of digital marketing tactics.

Back in the 1980s, traditional marketing used a marketing funnel to illustrate how the marketer developed a broad group of prospects and winnowed them down through the funnel until they emerged at the bottom as customers. Who else remembers the 80/20 ration? That's the Pareto Principle that 80% of your business revenue came from 20% of your customers?
But do customers really belong at the bottom of the funnel? And if they return for repeat business, do they have to go to the top of the funnel again? Aren't your customers at the very center of your business?
Moving to the flywheel business model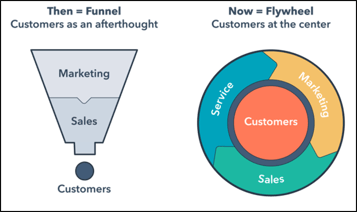 That's when Hubspot's co-founder Brian Halligan created the Flywheel model which puts the customer at the center with marketing, sales, and service teams surrounding them. The customer becomes the accelerant and drives future growth, which is the heart of inbound marketing.
Marketing isn't the only industry discovering the power of the flywheel business model. Many industries now recognize how customers are disrupting traditional businesses. When customers are at the center of a business relationship, we have business models such as Esty, Uber, Airbnb, and more.
According to Strategy+Business, disruptive strategic flywheels are paving the way for dynamic and resilient 21st-century business models: "Successful disruptors are able to exploit market trends by creating reinforcing feedback loops that give them an advantage over time. Consider the power of data network effects. The more data one has, the more one can personalize the customer experience; the more one personalizes the experience, the more customers are attracted; the more customers one has, the more data one gets. This type of flywheel makes a company attractive to consumers."

When the concept of Inbound was first introduced, a couple blog posts a month were enough to generate 70% more leads than those businesses that didn't blog. Even as B2B increased their blog frequency, they also saw a steep increase in their highly qualified leads.

Integrating tactics with the flywheel business model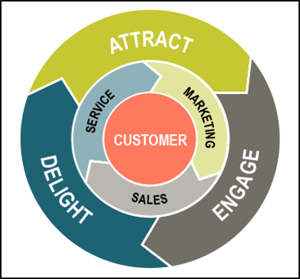 Customers are very savvy now. They aren't satisfied with just blog content. As a nimble, agile company, HubSpot has kept pace with its customers and offers a host of software tools for marketing, sales, and customer service teams to utilize.
These tools add new layers to the buyer's journey that attract, delight, and engage potential buyers. They are much more robust, and closely tied to the various stages to take full advantages of emerging technology such as automation, chat bots, and other AI tools.
If you've attended InVerve's Hubspot User Group, this might be familiar to you. At InVerve, we took this flywheel model a step further and aligned tactics to each stage of the flywheel so marketers can know exactly which tactics to target for each stage. Below is a detailed list of those tactics:
Attract Tactics
Digital Knowledge Management


Google Local Business
Yelp
YP.com

Keyword Strategy
Landing Pages
Pillar Page Strategy
Blogs
Paid Ads
Social Media

Referring Sites
Back Links
URLs
SSL
Page Load Speed
Canonicals/Redirects
Title Tags
H1, H2, H3
Meta-descriptions
Engage tactics
Call-to-action
Landing pages
Written Content
Contacts
Testimonials
Case Studies
White Papers
Email workflows

Downloadable content
Promotional Offers
Forms
Chat bots and responses
Videos
Pop-ups
Personalization
Delight Tactics
Customer Service


Knowledge Base
Videos
Tickets

Social Media
Smart Calls-to-Action
Email Workflows

Secondary Offers & Promotions
Customer Perk Programs
Personalization
Feedback
Surveys
Net Promoter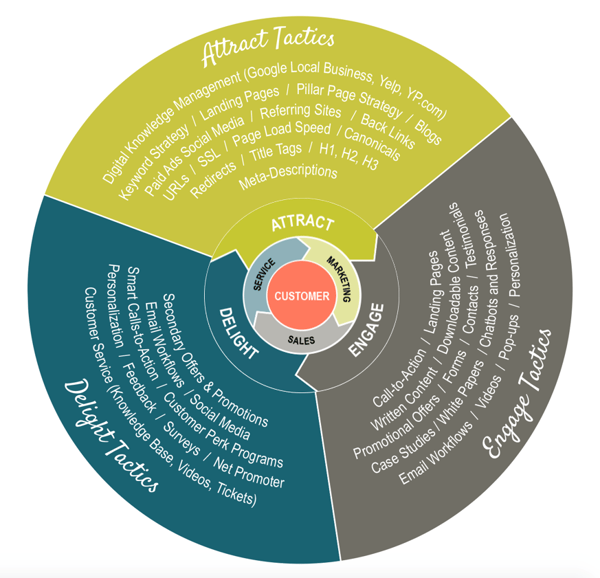 This model gives InVerve's clients access to a wide variety of Inbound marketing tactics, and keeps the customer at the center of it all. As tempting as it is to use all of these, a thorough understanding of your buyer profiles will help identify the most effective tactics to reach your goal. Matching the tactic to the customer results in better leads, stronger buyer relationships and a satisfied customer who comes back again and again, often bringing more customers.
And who doesn't want that?
Topics: marketing, digital marketing, marketing strategy, HubSpot, marketing goals, inbound