Social media monitoring can sometimes get lost in the jumbled word salad of social media marketing jargon: metrics, listening, analytics, intelligence, monitoring…They all sort of start to run together until you feel like you're just too old for this whole thing. But you're not. Social media monitoring is the act of tracking and watching what is being said about your brand specifically and your industry generally. Social media monitoring focuses on conversations, trends, and sentiment: what are people complaining about, celebrating and looking for in the context of your brand.
I don't want to overstate the obvious, but there are a lot of people talking on the internet. You will get a notification on your page if someone @mentions your brand, but unfortunately everyone isn't going to take the time to make sure you're notified. There's no efficient or realistic way to manually monitor all social channels for any relevant mentions; it's a job for AI. There are a number of monitoring tools you can utilize, from channel-specific ones like Reddit Keyword Monitor, HubSpot's Twitter monitoring tool, and Streamview by Hootsuite for Instagram, to cross-platform tools like Hootsuite, Digimind, Mention, and Buzzsumo. Not to get too messy, but the big players in social media monitoring extend beyond social platforms and also crawl forums, blogs, review and news sites for relevant conversation.
Deciding What to Monitor
Start with identifying which keywords your audience uses when talking about your brand, service, or products in the industry. Here are some crucial keywords you should monitor to find the conversations that are relevant to your brand:
Your company or brand's name and variations of it (including potential misspellings)
Names of your products
Names of individuals associated with your business
Your slogan and phrases to describe your industry
Your competitors, their slogans and associated phrases
Frequently used industry hashtags
Like any keyword strategy, you'll need to adjust the scope to get the balance just right, so you're not casting too wide or too narrow of a net. Let's just say Apple isn't monitoring every mention of the fruit online. Once you have constructed your list of keywords, be sure to constantly track them through online platforms such as social media sites, news sites, blogs, and forums.
How Social Media Monitoring Can Benefit Your Brand
Below are five ways that social media monitoring can improve your business:
1. Effectively Manage Crises
Social media monitoring allows you to respond to customer complaints in a timely manner to avoid escalation of dispute. People tend to tag brands when they're reaching out with questions or complaints and seeking resolution; conversely, people don't bother tagging brands when they don't expect a response. NYU research shows that "one-third of all tweets to companies were about customer service issues, but that only three percent incorporated the company's Twitter username with the @ symbol." Essentially, these people are being passive-aggressive; they're not tweeting at your company to resolve the issue, but rather tweeting about your company to complain. If you can solve someone's issue when they're not even expecting a solution, that's a win.
2. Gain Competitive Intelligence
Social media monitoring allows you to keep an eye on your major competitors to know what they are up to and find out what people are saying about them. Use this information to track their fails and wins and compare their praise and complaints with your brands'.
3. Collect Customer Feedback
By paying attention to praise on social media, you can use that opportunity to thank your customers and fans, share their feedback with other followers, and potentially use their comments as testimonials. Conversely, by paying attention to the negative comments, you can address the situation in a timely manner, apologize for whatever inconvenience they may have experienced, and gather rich feedback on every aspect of the business, from the buying cycle to the end product.
4. Keep Up With Trending Topics
To excel on social, your brand needs to be dynamic, keeping up with the news cycle and cultural moods. Brands are increasingly using social media to display a human side: from jumping on viral trends to weighing in on current events and politics, dem

onstrating social responsibility and the brand's values.
5. Identify Advocates, ambassadors, and Influencers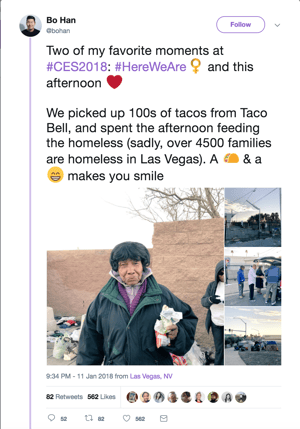 When it comes to social media marketing, knowing who is talking about your brand is crucial. Use monitoring tools to find your cheerleaders as well as the leading voices in the conversation, from Instagrammers to bloggers and thought leaders on LinkedIn. Interact with and share the content of advocates (especially when they're celebrating you!), and reach out to and connect with influencers. Brands of all sizes can leverage the social capital of influencers from mega to macro and micro to cultivate brand awareness through partnerships and endorsements. Check out this example from Taco Bell: an organization bought Taco Bell for homeless people in Vegas, and while they tweeted about it, they didn't tag Taco Bell. Because of some simple monitoring, Taco Bell was able to reach out and celebrate (and claim some ownership of) this good deed.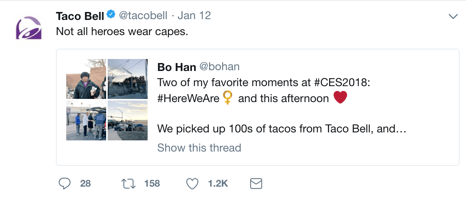 Social media monitoring is extremely important for the success of your business and your social media marketing campaigns. By integrating social media monitoring into your marketing strategy and actively listening to online conversations, you will be able to successfully manage customer complaints, gain competitive intelligence, gain positive customer insights, keep up with trending topics, and identify important brand influencers. Masses of customers, prospects, and leads are having conversations about your brand and your industry on social media every day. Find out what they are saying, and use it to your brand's advantage.