Picture this: You're sitting at the doctor's office, patiently waiting to be seen. After an hour, you need a pick-me-up so you pull out your phone and head to Buzzfeed. Lucky for you, there's a list of the most Instagram-worthy travel destinations. And just a day prior, you told your partner you had to get out of town for a week.
Hoping to travel to one of these newly-found destinations, you copy the URL and paste it into your Facebook Messenger. Off it goes to do your convincing for you (you hope). Guess what? Your action just became a part of "dark social."
What Dark Social Is
Dark social is any web traffic that has not been ascribed to a known source, like through social networks or a Google search. With regular social sharing, referral web traffic is recognized by using the "tags" in the shared link.
For example, the most common referral tag, an Urchin Traffic Module (or UTM code), is the text at the end of a URL that allows for link tracking in emails, social media, messaging, and more. It essentially shows where the link originated from. A UTM code from Twitter would look something like this: "&utm_medium=social&utm_source=twitter".
However, dark social links, do not contain these UTM codes with the referrer's data, making the source of each link untraceable. For social marketers, this creates becomes the dark space.
Different Ways People Can Go Dark on Social
1. Native Mobile Apps
Once a link is clicked in an app, it either opens the link in-app or forces your web browser to open a new window. Either way, the link goes directly to the site, looking like direct traffic rather than social sharing.
2. Chat
There are dozens of options including Facebook Messenger, Google Allo, WhatsApp, and Slack. Unfortunately, though, they all do not pass on referral codes.
3. Email
Some email-providers allow for referrer links. Most don't though, like Outlook, Yahoo, and Gmail.
4. Organic Search
Google doesn't pass on referrer information in most browser configurations when users click on a link found organically.
5. Secure Browsing
These days, many sites have secure browsing. Therefore, any site using HTTPS instead of HTTP will not pass on a referrer code.
Why You Should Care
For one, it's estimated that almost 70 percent of social shares - and 82 percent on mobile - are dark from the ad buying platform, RadiumOne. Not only that, but it's estimated that 32 percent of people share solely using dark social methods. That's a lot of untraceable data going around the Internet. Social sharing is one of the most important aspects of social media marketing, and with only 30 percent of it being tracked, there are a lot companies to miss out on.
Here are some more astounding numbers on dark social: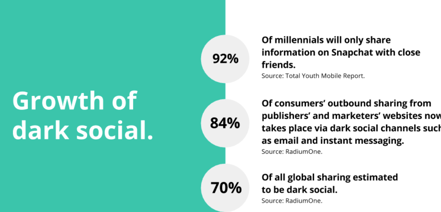 Dark Social and The Customer Journey
In a way, dark social parallels the reality of today's customers; each person is constantly switching devices and channels throughout each day. Now that most customer journeys are non-linear, social marketers must adjust their own tools to attempt to understand dark social, like using trackable links.
Heavily-used and centralized platforms are a thing of the past. Now, enhanced customization and the newly found abundance of communication channels allow customers to enjoy one-on-one interactions.
Feeling left in the dark on social media? Check out our introduction to social media marketing. Connect with us. We're an inbound marketing agency that has immense experience in developing social media strategy.
Topics: social media marketing, marketing, social media, dark social